World of Braiding & Extensions can train everyone irrespective of race, age or gender from complete beginner to professional level.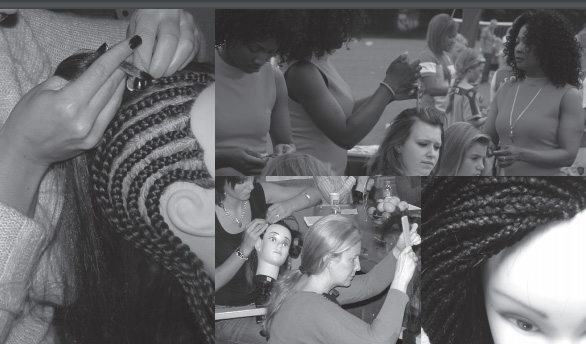 We participate and exhibit at various National & International hair shows including the industry's most prestigious Salon International show in London.
World of Braiding & Extensions is World No. 1 Professional Natural Hair Academy with International Certification from the industry's leader – Habia – world renowned authority for hair & beauty standards.
World of Braiding & Extensions Professional Natural Hair & Extensions Business Academy is attached to a Professional Braiding & Extensions Salon to give professional handson education, information & skills training.
OUR UNIQUE VALUE POINTS
(THINGS THAT MAKE OUR TRAINING UNIQUE)
We train everyone – beginner or experienced as we believe everyone with two hands and an interest can be trained in natural hairstyles – braiding, weaving, adding extensions.
We encourage you to go into business with your gained knowledge & skill by giving you business advice /support so you can start your business even while you are training.
We treat you as individuals and design courses around your particular needs by ensuring your chosen practical techniques match your location and interest. This way you achieve your dreams and can start practicing and earning money with your skill once you finish your training.
We offer great value for money as we focus on training you to your best ability unlike salon work experience schemes  here you spend money and time in the salon doing mundane jobs that offer you little knowledge towards your training.
We train groups as well as one-to-one sessions.
Our trainers can also travel to different locations when required.
Our training includes detailed theory information about the industry and understanding of hair and how it grows/ get damaged; supported with hand-outs, information, demonstration and hands-on practice.
We offer the most current and latest information in hair training as we have access to all continents – America, Africa and Europe.
While giving information we give you trade secrets, hints and tips. We show you different real samples and how to work with them. You get familiar with them and will not get confused when you start using them.
We offer after-training /open communication support so you can come to us when challenged with difficult situations in your businesses.
We support you by giving mobile/ freelance braiders jobs and also giving recommendation/ testimonials when required.
Our students also have access
SYLABUS & TRAINING PROGRAMMES
To gain certification from our Business Academy and become a complete Certified Natural Hair Care & Extensions Practitioner.
COMPULSORY THEORY MODULES
MODULE 1
History of working with Natural Hair Care natural hair designs – Braiding, Weaving & adding extensions. Understanding the Science of Hair – How it grows and what causes damage.
MODULE 2
Health, Safety & Sanitation in the Natural Hair Salon; Personal Hygiene etc
MODULE 3
Understanding the Industry technical names for Natural hair & Extensions – Braiding, Weaving & Extensions. Knowing natural hairstyles
MODULE 4
Understanding Natural hair healthy products for care and growth.
MODULE 5
Understanding Hair Extensions types: For Braiding, Weaving & Fusion Extensions
MODULE 6
Professional Business of Natural Hair Care: Client care & Consultation, Natural hair products
MODULE 7
Understanding Salon & Business Management, Marketing & Sales etc.